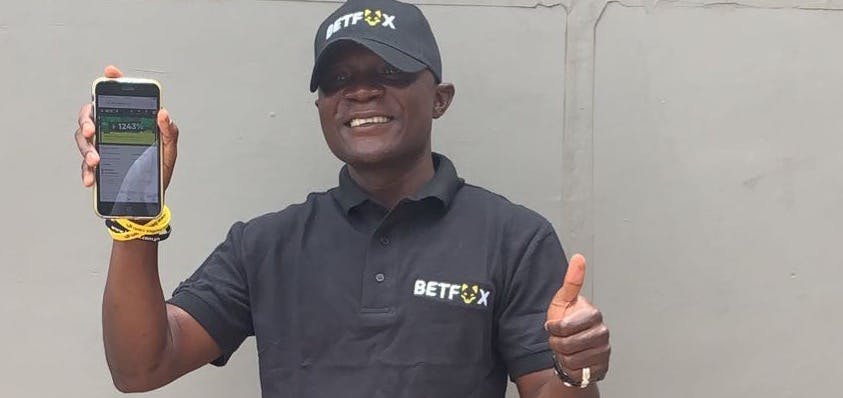 How Walter won GHS 69,805 with BetFox
On 9 September 2021 Walter A. from Ashaiman placed a GHS 20 bet with 19 selections on BetFox (details below) that changed his life a few days later.
He only registered a month ago and placed around 50 bets, before on 12 September this one ticket paid him a massive GHS 69,805 (including more then GHS 24,000 in Acca Bonus).
The winning was paid into his bank account a couple of days later, and we had a chance to meet with Walter in Accra to equip him with some BetFox merchandise and speak with him about his winnings.
How did you get to know of BetFox?
I saw some advertisement in the LiveScore application.
Why did you choose to bet with BetFox?
Because of their Acca Bonus and also because I noted that BetFox has higher odds when comparing them with other betting companies.
How do you feel after winning this big?
I feel very excited. Especially when the call came through from BetFox congratulating me. I wasn't even aware I had won till after the call came through. But even now, having the money in my bank account only a couple of days later, I am still super excited.
Is this your biggest win?
Yes, this is my biggest win ever after betting for over 2 years.
What are your plans after winning this big?
I will be going into business (cold store), and invest part of the money as well.
Is this your usual betting pattern? What made you choose these selections?
Not really. It depends on the games available and the situation. I checked the teams H2H and their standing on their various league tables to make my selection.
How was your experience overall with BetFox so far?
BetFox is one of the best and their Acca Bonus is the best in the market. Deposit and withdrawal are super fast and they also have good customer service and they are actually very real. I will surely recommend BetFox to the public.
Check Walter's Bet: