How Emmanuel won GHS100,000 playing Aviator at BetFox
Seven (7) is a very special number, we have 7 days in a week, 7 continents in the world, and in sports, we have Cristiano Ronaldo with the CR7 brand. The latest addition to the wonderful number seven (7), is the GHS7 stake Emmanuel used to win GHS100,000 while playing Aviator at BetFox on June 30 2023, the night before his birthday. Yes, you read right, GHS7 for GHS100,000 at a multiplier of 14,285.74x. Let's get straight into how it all happened...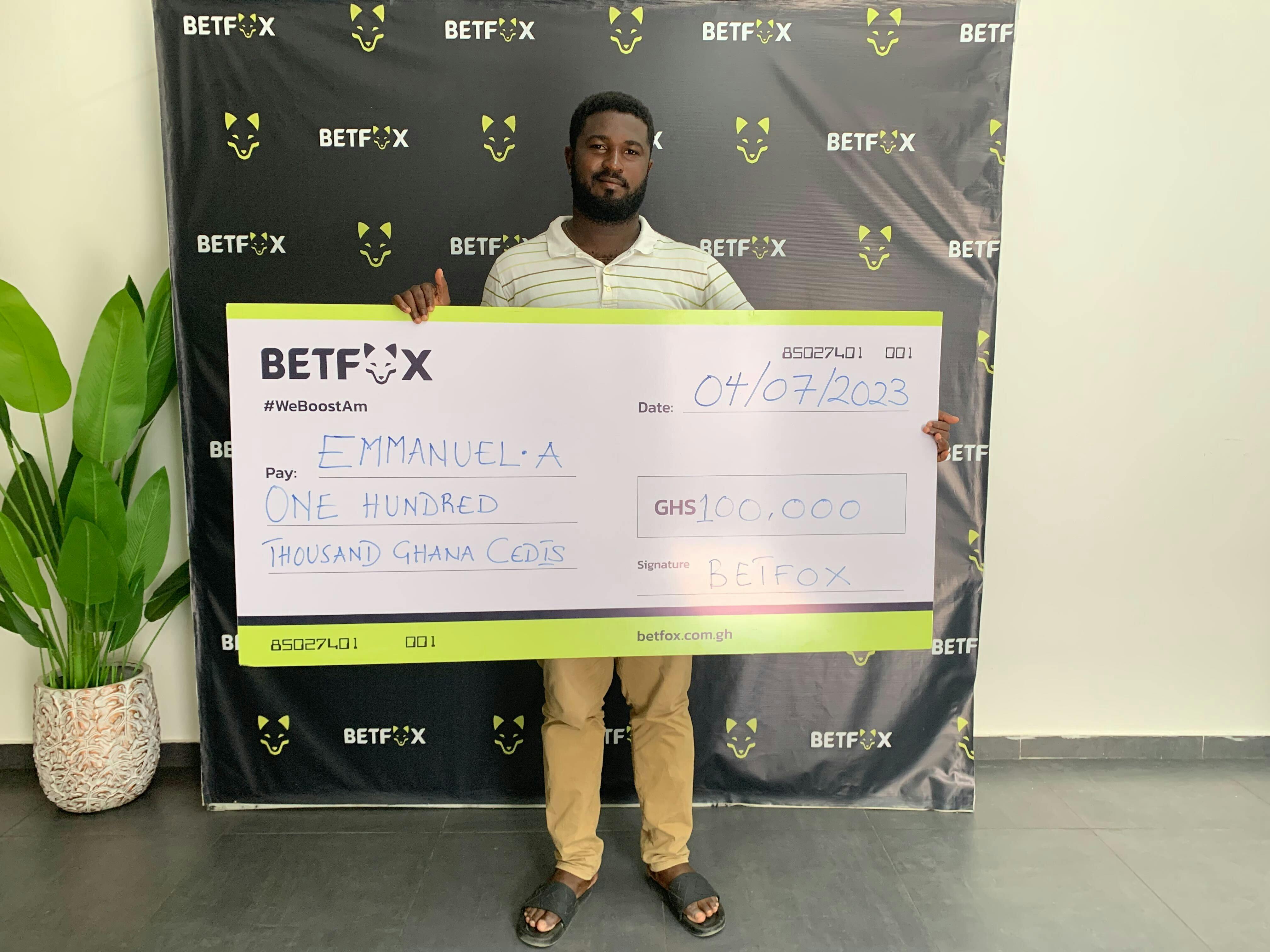 Tell us a little about yourself.
My name is Emmanuel, a car spare parts dealer at Abossey Okai in Accra.
How did you get to know about BetFox?
I got to know about BetFox from a friend who only bets with BetFox. I asked why, and he talked about BetFox's quick withdrawal and cash out. He encouraged me to register, and that is how it all started for me. 
What is your experience after registering and joining BetFox?
Everything he told me about BetFox is 100% true, in addition, BetFox has a great customer service team that is very accommodating and accessible as compared to other betting platforms I used in the past.
Tell us how you won the GHS100,000.
Well, you know how Aviator is, you cannot easily predict the rounds. It was a roller coaster day for me and I was left with just GHS7 in my account, so I just staked it all on that particular Aviator round, with the mindset "if I lose, I close for the day", only for me to realize miracles do exist.
Explainer: How did the round cash out at exactly GHS100,000?
To ensure a fair gaming experience BetFox is making sure that Aviator bets are automatically cashed out when the maximum payout is reached, which currently is GHS100,000 per bet on Aviator. As soon as the amount was reached at a multiplier of 14,285.74x, we automatically cashed out his bet.
Is this your usual bet?
No, I bet on both virtual games and sports, specifically football and basketball.
Is this your biggest win, and how do you feel about the win?
Sure, this is my biggest win and I am very excited. I have shared the story with all my friends and family.
What are your plans for the money?
I plan to invest it into my car spare parts business that I just started at Abossey Okai.
Tell the public something about BetFox.
BetFox is real, and my experience on this platform has been very good. They actually called, congratulated me, and paid me without any stress, and that is a great sign of trust and honesty. I encourage everyone who is into betting to bet with BetFox.